Beat Boredom with these Favorite Games
By JULES VIVAS
We live in challenging times. Because of the COVID-19 pandemic, quarantine has been imposed on more and more places around the world. The outbreak comes with great repercussions such as schools and non-essential business closing, travel restrictions enforced, the streets left empty (or with hardly anybody), social distancing observed, and employees working from home. Everyone is asked to stay indoors. Luckily there are so many things available to entertain us in the comfort of our homes nowadays, and among them are classic board games.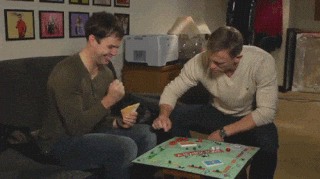 A little old school, sure, but that is exactly the reason for the recent resurgence of classic board games—nostalgia. Aside from being extremely fun, playing board games also reduces stress, induces laughter, tests patience, and enhances creativity, brain function, and even self-confidence. Moreover, board games are a good alternative to mind-numbing electronic devices.
Here are some of the most amusing and engaging board games to help you pass the time.
Scrabble

Among the most popular board games ever, Scrabble uses a standard dictionary and crossword puzzle format. You form words using lettered tiles that you strategically place on the board to gain as many points as you can. This game develops a series of skills for players like vocabulary, good spelling, imaginative associations between letters, and arithmetic skills for tabulating totals and keeping score.
Monopoly
Arguably the most iconic American board game that dates back to 1903, Monopoly is a family multi-player classic involving set pieces, two stacks of cards, and a bank of cash called "Monopoly money." Advanced by a throw of the dice, the game can last hours. It teaches one personal finance, interpersonal negotiations, and basic arithmetic and risk management skills.
Catan
The unique hexagonal tile board game is all about governance, as players vie for and maintain resources, and navigate through incidents. Players are tasked to cultivate, manage, and earn "Victory Points" for the rich Island of Catan. The multi-award-winning board game is highly analytical, and requires advanced strategic and planning skills. It also involves the creation of narrative and story.
Connect Four
Also known as Four Up or Plot Four, Connect Four is a two-player board game in which the players first choose a color and then take turns dropping one colored disc from the top into a seven-column, six-row vertically suspended grid. The objective is to be the first to form a horizontal, vertical, or diagonal line of four of your own discs.
Clue (Cluedo)
Creating detectives since 1950, Clue lets players gather information to successfully deduce the details of a crime. Set in a mansion, players move around rooms, hallways, and secret spaces as they figure out who the suspect is, which weapons were used, and where the crime was committed. The plot commences with secretly stashing one card from each category in a closed "fact envelope." Roll the dice to progress along the rooms of the mansion. Once a player feels confident they have answered the facts of the case, they venture to make an accusation. Getting all three components correctly and you win, while getting even just one wrong means you lose.
Axis and Allies
This game is loosely based on World War II, where each player is a commander employing military tactics. The Axis expansion is at its peak, and players have the power to rewrite history in every game. Axis and Allies is a perfect game for history buffs and historical fiction fans.
Battleship
This is yet another war-themed board game. What started as a pencil-and-paper game during World War I, Battleship is a guessing game where players try to sink each other's ship. There are two units that function on an x and y axis, with small pegs, and boats of different sizes to model the action and keep track of the guesses per game. Players alternate with guesses and their competitor notifies them if their guess is a miss or a hit.
Chess
Chess is one of the most popular board games in the world. It's so prominent that there have been several debates on whether it can already be considered a sport. As a matter of fact, 24 out of 28 members of the European Union as well as the International Olympic Committee recognize chess as a sport. This abstract strategy board game is played on a checkered board with 64 squares arranged in an eight by eight grid. It is believed to be derived from the Indian game chaturanga some time before the 7th century. For those unaware of the mechanics, each player begins with 16 pieces namely eight pawns, a king, a queen, and pairs of rooks, knights, and bishops. Each piece type moves differently, with the most powerful being the queen and the least powerful the pawn. The goal is to checkmate the opponent's king by placing it under an inescapable threat of capture.
Game of the Generals
A game invented in the Philippines by Sofronio H. Pasola jr. in 1970, it simulates armies at war trying to overpower, misinform, outflank, outmaneuver, and destroy one another. Its Filipino name is "Salpakan" and it is also fondly called as GG or GOG. Game of the Generals consists of two competitors and a neutral arbiter or a referee to decide the results of "challenges" between opposing playing pieces, which like playing cards, have their identities hidden from the opponent. It's a cross between Chess and Battleship.
Snakes & Ladders
A "racing" board game purely based on sheer luck. Snakes & Ladders is known originally as Moksha Patam, an ancient Indian board game regarded today as a worldwide classic. It is played between two or more players on a numbered game board with gridded squares. There are ladders and snakes on the board, each connecting two specific square tiles. The object of the game is to navigate one's game piece, according to die rolls, from the start to the finish aided by ladders (that will help you ascend) or hampered by snakes that will bring you anywhere between one square back to the very start.
Ticket to Ride
This is railway-themed German-style board game designed by Alan R. Moon. Players are dealt four train car cards as their playing hand at the beginning of the game. They are also given three Destination Ticket cards, each of which shows a pair of cities on a map of the US and southern Canada. These become goals, representing two end-points, which players are secretly trying to connect. The player must keep at least two of these destination cards and discard unwanted tickets to the bottom of the stack, if any. Once kept, a destination ticket may not be discarded for the rest of the game.
Santorini
An abstract strategy board game designed and released by Gordon Hamilton in 2004, Santorini was inspired by the architecture of cliffside villages on Santorini Island in Greece. Made for two to four players, it is played on a five by five grid where each turn players build a town by placing building pieces up to three levels high. To win the game, players must move one of their two characters to the third level of the town, or when opponents are unable to make a move.
Source:
Manila Bulletin