These Stormtroopers hit their targets
By DOM GALEON
Images courtesy of the 501st Cebu Scarif Garrison
Masks are in fashion. Covid season, if it is to be called that, has started a trend that has become quite irresistible. Everyone now wears a mask and the choice ranges from simple surgical face masks and N95s to the more elaborate face shield in all its variations.
But why just wear a mask if you can put a helmet on or, better yet, an entire Stormtrooper armor?
That's what a group of Star Wars fans from Cebu did over the weekend when they worked as volunteers at various checkpoints in Cebu city.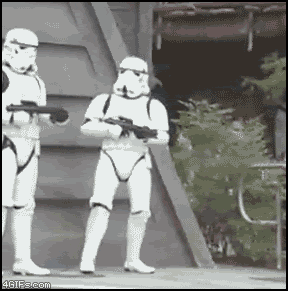 A group of fans belonging to the 501st Cebu Scarif Garrison, a local arm of the international Star Wars fan group called the 501st Legion, were spotted around the peripheries of Cebu City adding an "imperial" touch to checkpoints. But instead of carrying blasters, these Stormtroopers had temperature guns—and they didn't miss their targets!
"The idea came up when our group was distributing free meals to the frontliners at the checkpoint," one member of the 501st Cebu Scarif Garrison told Manila Bulletin Lifestyle. "The police officers invited us to join them during the inspections, which was fortunately appreciated by the motorists."
It's no small feat, wearing complete Stormtrooper gear under the scorching heat of the sun. For these volunteer Cebuanos, however, it is all worth it. They were first spotted in the town of Consolacion, but they have since done volunteer work in other places.
"We just finished our shift at another checkpoint today," one member proudly says.
Asked if they would be doing this more often, the Stormtroopers of Cebu said they go where they are called and respond to the call of the Philippine National Police in Cebu "on a per need basis."
May the Force be with these volunteer frontliners!
Check out these gallant soldiers in white armor below.
Source: Manila Bulletin (https://lifestyle.mb.com.ph/2020/04/27/these-stormtroopers-hit-their-targets/)